I love the boho vibe that kilim pillows (and rugs) give a room.  It's boho and global and somehow youthful.  But these pillows are usually quite pricey.  Here is an example from Overstock for over $70.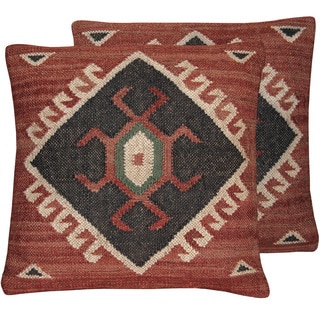 When I saw this rug at a thrift/consignment store I saw my opportunity to bring a little global style to my space.
According to the tag, this rug is from Peru. The graphic design grabbed my attention with all the possibilities.  I could make pillows.  I could cover a bench.  When I start to see more than 1 use for an item I know its for me.  And, with its soft and pliable feel  I knew I would be able to cut and sew the material without buying any special tools.  The challenge would be cutting it in a way to preserve the integrity of the design.
I used a length of fabric as a guide on where to cut.  As a visual person this really helped me to see what my final product would be like.
Because my rug is loosely woven I should have sewn  some scrap fabric to the back before cutting.  That helps preserve the edges and keeps them from unraveling.  I didn't do this and I had to go over the edges a couple of times.
I am pretty happy with the end result.  I have enough rug leftover to make at least one, maybe two more pillows.
I will put it beside my knitted pillow (made from a scarf).  I think they compliment one another.
I have a few other projects lined up for the weekend.  It's kind of nice to start checking them off the list.
Have a great weekend!